Enable a faster connection for your business
Due to billions of pounds in continued investment by UK mobile operators, 5G data speeds have long surpassed those available through traditional fixed line broadband. 
When our high capacity data sims are combined with industrial grade M2M routers and high gain external antennas, sites can expect download/upload speeds 300MB+.
Our data packages are truly unlimited, so whether your team consists of 2 people or 200, you will never run out of data.  
Our Mobile Manager platform allows you to view and manage all of your sims across all networks in one place.
Don't delay, get in touch today on 0330 1244 805 or connect@clarus-sitesolutions.com.
5G better connects your business, enabling faster working in the busiest locations. It's the next generation of mobile technology – get your business ahead of the curve.
Downloading large files can be done in seconds and video conferencing will be smooth, without interruptions or buffering issues. Leverage the application marketplace to work more efficiently, utilising the cloud to keep connected on the move.
Make your workforce more productive, whether on the go or in the office.
5G, like other wireless methods of communications, uses radio frequencies. Using higher frequencies than 4G and 3G, 5G can carry much more data, much more quickly.
For business, this means that 5G can support more users and devices simultaneously, which means that more people can connect to the network without slowing down speeds.
Additionally, 5G can be sliced for dedicated purposes, making it faster and more efficient than other technologies. For example, splitting and enabling smart city capabilities such as energy use, emergency response, air quality and connecting driverless cars. The possibilities are unlimited.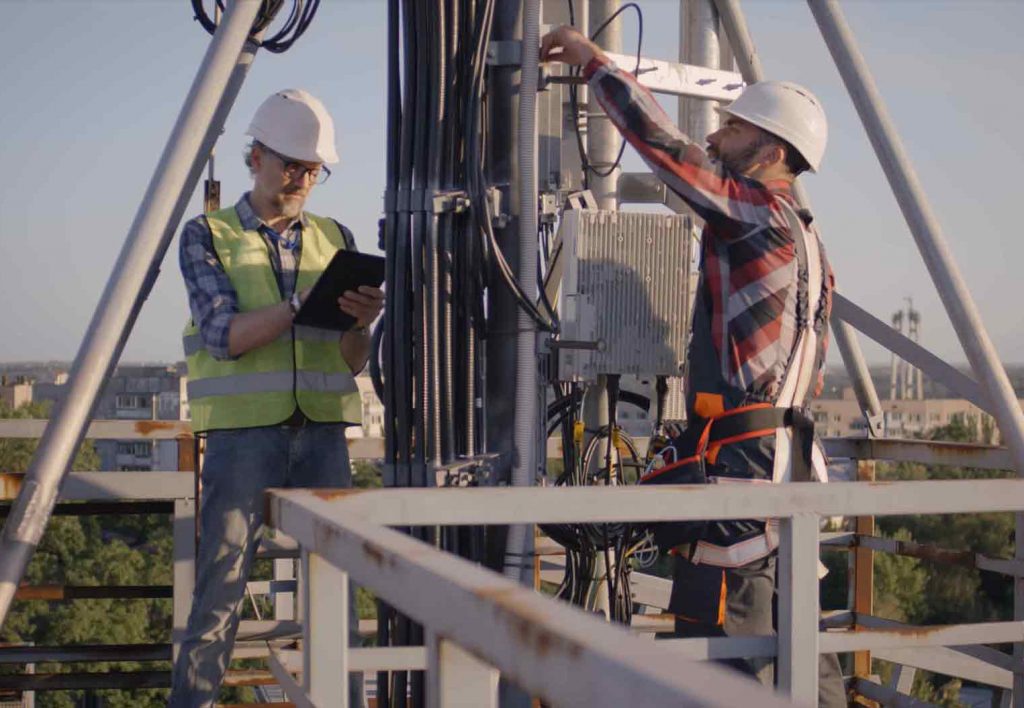 Through our network partnership with EE, you can get access to 5G in many towns and cities in the UK. EE is leading the largest 5G rollout in the UK, with 80 locations in now enabled, and thousands of businesses now benefting. 
You can browse the list of towns and cities below, to see where 5G is being rolled out.
5G Enabled Towns & Cities
 London
 
 Edinburgh
 
 Birmingham
 
 Belfast
 
 Manchester
 
 Cardiff
 
 Bath
 
 Bristol
 
 Chelmsford
 
 Coventry
 
 Leicester
 
 Liverpool
 
 Glasgow
 
 Hull
 
 Leeds
 
 Lichfield
 
 Lisburn
 
 Newcastle
 
 Nottingham
 
 Plymouth
 
 Salford
 
 Sheffield
 
 Stirling
 
 Sunderland
 
 Wakefield
 
 Wolverhampton
Altrincham
 
 Ashford
 
 Ashton-under-Lyne
 
 Belshill
 
 Birkenhead
 
 Borehamwood
 
 Bransholme
 
 Brentwood
 
 Bury
 
 Castlereagh
 
 Chatham
 
 Cheshunt
 
 Chesterfield
 
 Chester-le-Street
 
 Chorley
 
 Clevedon
 
 Clifton (Notts)
 
 Clydebank
 
 Cumbernauld
 
 Dartford
 
 Dinnington
 
 Doncaster
 
 Dudley
 
 Epsom
 
 Grays
 
 Gillingham
 
 Guildford
 
 Ilkeston
 
 Hamilton
 
 Hoddesdon
 
 Harlow
 
 Huddersfield
 
 Inchinnan
 
 Jarrow
 
 Kimberley
 
 Kingston-upon-Thames
 
 Loughborough
 
 Loughton
 
 Maidstone
 
 Milnrow
 
 Minster
 
 Motherwell
 
 Newton-le-Willows
 
 Northampton
 
 North Shields
 
 Nuneaton
 
 Oldham
 
 Paisley
 
 Pontefract
 
 Potters Bar
 
 Rochdale
 
 Rochester
 
 Romford
 
 Rotherham
 
 Rugeley (West Midlands)
 
 Solihull
 
 Southend-on-Sea
 
 South Shields
 
 Staines-upon-Thames
 
 Stevenage
 
 Sutton Coldfield
 
 Swadlincote
 
 Sydenham
 
 Walsall
 
 Waltham Abbey
 
 Waltham Cross
 
 Walton-on-Thames
 
 Washington
 
 Watford
 
 West Bromwich
 
 Westhoughton
 
 Weston-Super-Mare
 
 Weybridge
 
 Wickford
Site wide connectivity from day one. We provide everything from fully networked modular buildings, offices, showhomes and more, enabling your workforce to access key documents and applications at any time.